System
Low Cost & Maintenance Free
System sectional view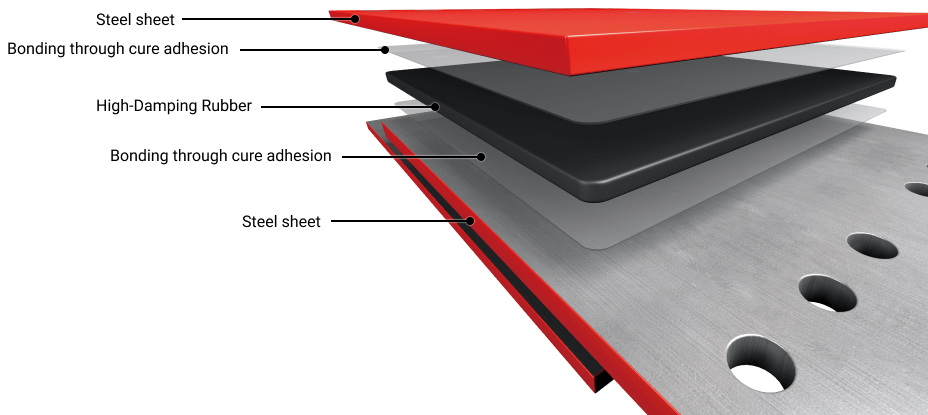 Cure adhesion* is employed to bond a steel sheet with High-Damping Rubber. The system has a double-layered structure employing two types of adhesives — one is compatible with rubber and the other with steel sheets — achieving a strong chemical bond. An accelerated degrading test using heat has verified that the performance will change little even after 60 years have passed.
* Technology for bonding the joints firmly in a chemical reaction by applying heat and pressure.
System Technology
Low-cost solution to various problems related to shaking in
buildings including wind-induced oscillation and earthquakes.
The initial rigidity of the system is 50 times greater than that of general rubber. Sumitomo Rubber's proprietary High-Damping Rubber.
Our High-Damping Rubber has both high initial rigidity and damping performance and produces its expected effect against microvibrations. GRAST is effective against common microvibrations due to wind-induced oscillation and long-period ground motion as well as large-scale earthquakes and aftershocks, thereby solving various oscillation-related problems in buildings.
The building damper exerts its effect against microvibrations.
Having a simple and rattle-free structure which brings out the best of High-Damping Rubber, the damper is very effective against microvibrations. It can be employed in renovating a wide variety of structures including super high-rise buildings, small and medium-size buildings, and existing buildings.
Low-cost device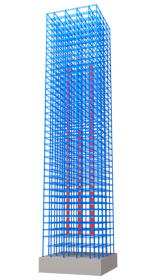 High-Damping Rubber has a high rigidity and has made it possible to reduce the damper size, cutting the cost per unit. Allowing for minute adjustments of damping performance in accordance with the design target, the damper can reduce costs to appropriate levels.* Excellent in repetition durability and secular performance stability, the damper can go for long periods with no need for repairs or inspections.
* Based on our calculation assuming use in a general building structure.
Obtained the building technology certificate issued by a public organization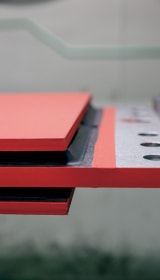 We confirmed various damper performances in full-scale experiment and performed high-precision modeling so that response analysis during earthquakes can be conducted on the buildings in which the dampers are installed. Seeing the damper as an assembly of multiple components, we have improved the analysis accuracy significantly in comparison with that of modeling a single element. We obtained a technology certificate of damper performances and modeling in March 2012.
Sumitomo Rubber's GRAST is certified by the General Building Research Corporation of (GBRC) Japan as a device having structure technical performances.
GBRC performance certificate No. 11-30 (March 2012) Viscoelastic damper using isoprene rubber visco-elastic body (SR4015-GR4/SR4020-GR4)